Virginia Dentists CE Requirements, Accreditations & Approvals
Virginia Dental Professionals
NetCE is an ADA CERP Recognized Provider. ADA CERP is a service of the American Dental Association to assist dental professionals in identifying quality providers of continuing dental education. ADA CERP does not approve or endorse individual courses or instructors, nor does it imply acceptance of credit hours by boards of dentistry. Concerns or complaints about a CE provider may be directed to the provider or to ADA CERP at www.ada.org/cerp.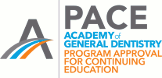 NetCE
Nationally Approved PACE Program
Provider for FAGD/MAGD credit.
Approval does not imply acceptance by
any regulatory authority or AGD endorsement.
10/1/2015 to 9/30/2021
Provider ID #217994.
The Virginia Board of Dentistry accepts courses from any provider who is ADA or AGD approved.
Continuing Education
Attention Virginia Dentists and Dental Hygienists: The Board of Dentistry has granted an automatic extension of continuing competency renewal requirements for a period of 6 months after the renewal deadline for any renewal due by March 31, 2020. You are encouraged to complete continuing education hours on-line before the renewal deadline, if possible. (Per the Board's Dental and Dental Hygiene Regulations, CE credit may be earned for verifiable participation in audio and video presentations. Up to two (2) hours of CE may be earned by volunteer service – 3 hours of service for 1 hour of CE credit.) However, the continuing education hours you complete during this extension in order to satisfy the current renewal period cannot be used towards the next renewal period. You will not be able to double count the CE hours for the next renewal period. For more information, please visit https://www.dhp.virginia.gov/dentistry/.
The Virginia Board of Dentistry accepts NetCE courses.
Dentists and Dental Hygienists are required 15 hours each year, all of which may be completed by home study.* Licensees authorized to prescribe controlled substances must complete 2 hours in pain management every two years.
*NetCE courses are considered home study.
All Accreditations and Approvals
License Renewal Instructions
For More Information
Please contact the Virginia Board of Dentistry at (804) 367-4538 or https://www.dhp.virginia.gov/dentistry/dentistry_laws_regs.htm for additional information regarding your continuing education.