Connecticut Nurses CE Requirements, Accreditations & Approvals
Connecticut Nurses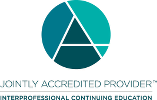 In support of improving patient care, NetCE is jointly accredited by the Accreditation Council for Continuing Medical Education (ACCME), the Accreditation Council for Pharmacy Education (ACPE), and the American Nurses Credentialing Center (ANCC), to provide continuing education for the healthcare team.
The Connecticut Board of Examiners for Nursing accepts courses from any provider who is ANCC accredited.
Continuing Education Requirement
The Connecticut Board of Examiners for Nursing accepts NetCE courses.
RNs and LPNs are not required continuing education at this time.
APRNs are required 50 hours every two years, 5 of which must be in pharmacotherapeutics. In addition, at least one hour must be completed in each of the following topics: infectious diseases, including, but not limited to, acquired immune deficiency syndrome and human immunodeficiency virus, risk management, sexual assault, domestic violence, cultural competency, and substance abuse.
All nurses are required to complete 2 contact hours on the topic of mental health conditions common to veterans and family members of veterans (PTSD, risk of suicide, depression, suicide prevention) once during the first renewal and not less than once every six years thereafter.
View APRN Special Offers
View Course List
All Accreditations and Approvals
License Renewal Instructions
For More Information
Please contact the Connecticut Board of Examiners for Nursing at (860) 509-7603, or visit their website at https://portal.ct.gov/dph/public-health-hearing-office/board-of-examiners-for-nursing/board-of-examiners-for-nursing.
Additional information regarding your continuing education requirements may be found at:
https://portal.ct.gov/DPH/Practitioner-Licensing--Investigations/APRN/Continuing-Education - APRNs.